Tuesday, July 23
11 a.m. Pacific Time
Learn how to inspire and engage potential donors by telling your organization's story with video. One-third of online activity is spent watching video. Social video generates 12 times more shares than text and images combined. And more than half the people who watch YouTube videos posted by nonprofits go on to make a donation.

Join experts from Adobe who will show you how to use Adobe Premiere Rush to deliver impactful video content that will get your organization noticed — and you don't need to be a video professional! Premiere Rush makes it easy to create and share online videos. Capture video using your mobile device. Easily edit with simple tools for color, audio, motion graphics, and more. Share directly to social media channels.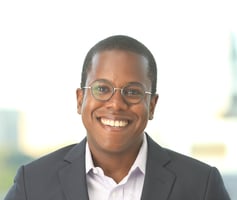 Stephan Hawthorne, Product Manager, Adobe
Stephan Hawthorne is currently a Product Manager with Adobe's Premiere Rush team in San Francisco and has been with the company for about a year. His professional experience also includes 5 years as a Mechanical Engineer, building new products within 3M Company's research lab. When he isn't glued to his computer tinkering with new features, you can find him traveling around the world or behind a drum kit playing to the tunes of Queen of the Stone Ages.